Lots of News from J4 today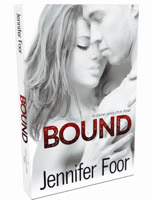 1. My new title BOUND is live on all platforms
It's a VERY SEXY StandAlone that will have you BOUND until the very end. That's a J4 promise.
Amazon US: http://amzn.to/27Ied7s
Amazon UK: https://www.amazon.co.uk/dp/B01FY2B6GA
Kobo: https://store.kobobooks.com/en-us/ebook/bound-106
Barnes and Noble: http://www.barnesandnoble.com/mobile/w/bound-jennifer-foor/1123830592
Apple: https://itun.es/us/POTHcb.l

2. Signups for Callie Healy's release tour are now happening. Make sure you're a part of this. Only two more Mitchell-Healy books remain.
TOUR: https://docs.google.com/a/inkslingerpr.com/forms/d/1CoQi5AdBom55i7KY087gSPOjJ13hkBxjoN4EN7bAlqo/viewform
RELEASE DAY BLITZ: https://docs.google.com/a/inkslingerpr.com/forms/d/1rrIZbH5Gqa-63A7XGpR_kqI9L6BAPk-pYgbI7cQRYW8/viewform
3. Preorder for Callie Healy
US: http://amzn.to/1TFWvHx
UK: https://www.amazon.co.uk/dp/B01FIBE3D0
iTunes: https://itunes.apple.com/us/book/id1113104872
4. SALES:


BINGE: 99 cents

BEREFT .99 cents

The Entire Kin Series .99 cents

The Singles Collection .99 cents

Twinsequences Duet .99 cents